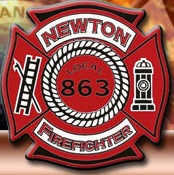 Greetings Neighbors,
Firefighting is a dangerous job, and every year thousands of firefighters suffer from the injuries that they sustained performing their job protecting the citizens. The Newton Firefighters Association helps to support the members and families of those injured or killed on the job.
Not only that, every year the Newton Firefighters Association hosts many charitable events as well as giving to the community in both physical and monetary assistance.
Now it is your turn to give back. We have hired Eastern Advertising to do our call back service, and they are simply requesting a small donation on the behalf of the Newton Firefighters Association to help us in giving to those in need, both on and off the job. They are not a scam or a prank call, there are just too many daily emergencies that we need to deal with assisting you, the citizens of Newton, to fulfill our ability to call each and everyone. We will also be mailing out letters discussing this for those who may be too busy to take a call.
We are putting together our Yearbook and would like to offer you a chance to place an ad in it. The caller will discuss pricing options for anything from a small ad covering about 1/10th of a page, all the way up to full page spreads and covers.
With your help we will be able to have another successful year and we are looking forward to serving you in any way possible.
Newton Firefighters Association
Local 863-IAFF