Updated On: Nov 332, 2009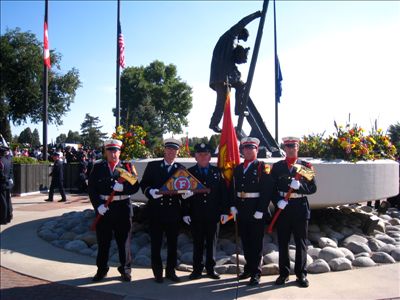 Honor Guard Members Tom Smith, Tom Lopez, James Pomeroy, Chris Lessard, Robert Chagnon Sr.
On September 19, 2009, 3 members of the honor guard participated in the International Association of Firefighters annual memorial mass in Colorado Springs Colorado. This ceremony is to honor and celebrate the lives of all firefighters from the US and Canada who died in the line of duty over the last year. In addition to the ceremony, the ultimate sacrifice that these firefighters have made will be honored by having their names scrolled on to the wall of honor.
This year's ceremony was extra special because one of our own was to be honored. Newton Firefighter Kevin Kelly was one of the 121 firefighters being honored this year. This the second Newton firefighter who has been honored at the ceremony and their name added to the wall of honor since the memorial site was erected. Kevin gave 23 years of dedicated service to the city of Newton before succumbing to the job related illness. He leaves behind his ex-wife Patricia Melnick and his two children Shayla and Sean Kelly.
Along with the 3 members of the honor guard, Firefighter Robert Chagnon Sr presented the IAFF Flag to President of the Newton Firefighters Tom Lopez, who accepted the flag on behalf of the Kelly family.