Honor Guard
Honor Guard Request
In order to request the Newton Firefighters Association Honor Guard, we request that you fill out the Honor Guard Request form. Due to the unpredictable nature of our profession, we humbly request that you submit your request with as much advance notice as possible to allow the Association to accommodate and fulfill your request.

Fenway Park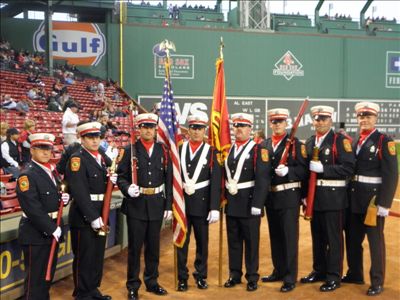 On September 21, 2010 the Newton Firefighters Association's Honor Guard Presented the colors during the national anthem at Fenway Park. This was the first of which we hope will be many more trips to Fenway.
Honor Guard Members from left to right
FF Pat Caruso, FF Tom Smith, FF Brian Langan, FF Chris Lessard, FF Jim Pomeroy, FF Mike White, Lt. Gus Svartstrom, Lt. Mike Murphy
Honor Guard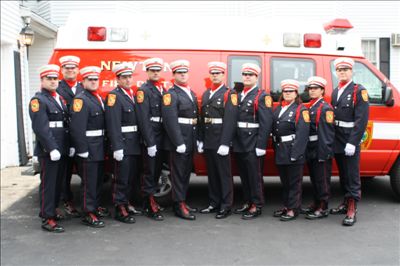 Welcome to the Newton Firefighters Association Honor Guard page.
The Honor Guard is funded by the Newton Firefighters Association and is currently comprised of 12 men and woman who volunteer their own time to serve as members of the Guard. The main function of the Honor Guard is to represent the proud tradition of the Newton Firefighters and the fire service at various events including Line of Duty Deaths, active and retired member's funerals, ceremonies and parades.
If you would like to learn more about our honor guard or events that we would attend please contact team leader Tom Smith through our web site email and he would be happy to assist.
Thank You
Team Leader tsmith@newtonfirefighters.org
Kevin Kelly Funeral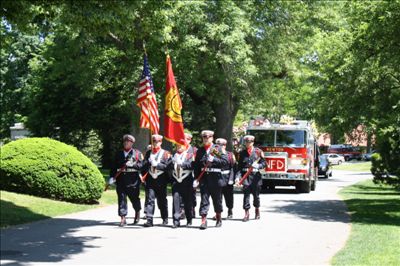 On June 4 , 2009 the Newton Firefighters Honor Gaurd lead Firefighter Kevin Kelly's procession to his final resting place. Kevin was a 23 year veteran of the department and was assigned to Ladder 2 group 3.
IAFF Memorial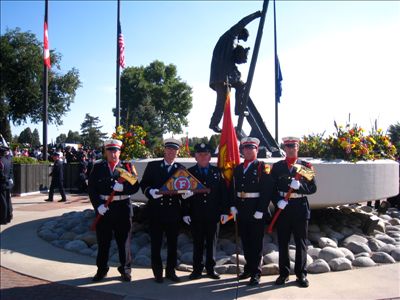 On September 19, 2009, 3 members of the honor guard participated in the International Association of Firefighters annual memorial mass in Colorado Springs Colorado. This ceremony is to honor and celebrate the lives of all firefighters from the US and Canada who died in the line of duty over the last year. In addition to the ceremony, the ultimate sacrifice that these firefighters have made will be honored by having their names scrolled on to the wall of honor.
This year's ceremony was extra special because one of our own was to be honored. Newton Firefighter Kevin Kelly was one of the 121 firefighters being honored this year. This the second Newton firefighter who has been honored at the ceremony and their name added to the wall of honor since the memorial site was erected. Kevin gave 23 years of dedicated service to the city of Newton before succumbing to the job related illness. He leaves behind his ex-wife Patricia Melnick and his two children Shayla and Sean Kelly.
Along with the 3 members of the honor guard, Firefighter Robert Chagnon Sr presented the IAFF Flag to President of the Newton Firefighters Tom Lopez, who accepted the flag on behalf of the Kelly family.
Page Last Updated: Apr 08, 2014 (09:52:00)